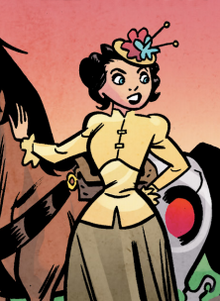 Wendy "The Widow" Johnson is a character in Sparks Nevada, Marshal on Mars. She is played by Shannon Woodward.
History
Wendy was married to Mr. Johnson, however, her husband was killed in the pre-podcast era.
In the comic book series The Sad, Sad Song of the Widow Johnson, Sparks Nevada is escorting Wendy, her husband and Felton across Mars, and along the way, they encounter many dangers. For a short time, she was turned into glass, and then captured by martians along with her husband, Felton, Sparks and Croach. It is later revealed that Mr. Johnson is an alien called a Qalifradraxian with minor reality-altering powers, that he altered the memories of everyone on Mars including himself, and he and Wendy were perhaps never married.
After the truth about Mr. Johnson was revealed by Stacy and Caiaphas Nevada, everyone including Wendy regain their memories. Wendy remembers nearly revealing something important to Felton, likely that he is going to be a father, thus making Felton the true father of The Baby Johnson.
Upset at being manipulated and forgetting that she and Felton were in love, Wendy ultimately shoots and kills Mr. Johnson, but his body emits a gas which again makes everyone forget who and what Mr. Johnson truly was. Wendy mourns the loss of her husband and forgets her feelings for Felton, and her child's likely true parentage, once again.
These events probably took place shortly before Sparks Nevada's first encounter with K of the Cosmos as told in the first sub-story in Sparks Nevada's "I'm from Earth" Day Special.
After Mr. Johnson's death, Wendy lives near town on Mars. She is Felton's next door neighbor, and Felton is not-so-secretly in love with her. She and Felton held hands once, and Felton thinks about it "basically all the time."
The Widow Johnson has a baby, who has as of yet only been called the Baby Johnson.
She also is capable of ferocious bloodlust if put into a Gladiator-style arena.
In Sheriff on Mars, Wendy inadvertently shoots and kills Felton while trying to save him from a rogue robot. Felton is soon resurrected by the Barkeep, using The Force Galactic. Just before Felton dies, Wendy admits she has begun to have feelings for Felton.
In Malware Wars, the Barkeep mentions that Felton and Wendy are doing well together, and she has begun to move on from grieving her husband.
The Widow Johnson runs a boarding house, which Ginny West stayed at while station on Mars as a troubleshooter. Sparks Nevada also stayed in the house after leaving his job of marshal on Mars and opening up a hardware store.
Appearances
Mentions