The Boat Show is the second episode of the Thrilling Adventure Hour Treasury and is the first segment released From the Vault.
Audio
"The Boat Show" on Megaphone
Cast
WorkJuice Players
Guest Stars
Plot
Songs
Previous Performance at JCCC4
As part of the JoCo Cruise Crazy 4,[1] The Bens and Paul F. Tompkins were joined by a number of friends of the show to perform this new and then-exclusive segment on February 27, 2014.[2] Although it was recorded in some form, as a documentary segment about it was included in the extras for the Concert Film, this performance was not released on the podcast feed.
JCCC4 Cast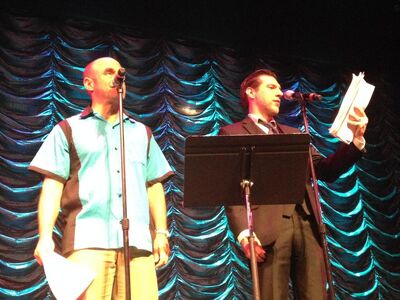 Notes
Continuity
Production
This episode was recorded at LA Podfest on September 18, 2015.[5] It was released on November 12, 2018.
References