Jurassic World: Dominion Dominates Fandom Wikis - The Loop
Play Sound
The Agony of the Feet is an episode of Sparks Nevada, Marshal on Mars.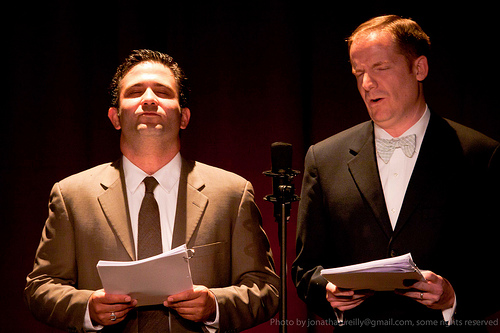 Podcast Episode
Audio
Patreon exclusive.
Cast
WorkJuice Players
Guest Stars
Plot
Upon hearing of the imminent destruction of Mars, Nevada and Croach set off to learn more at Doctor Scientist's lab. They ride through the Old Mission. The space-crazy Preacher resides in the parapets of The Old Mission, imitating space roosters. Suspecting him to be a martian, The Preacher shoots Croach multiple times and demands that Nevada prove his humanity while Croach recovers thanks to Nah Nohtek. The Preacher is truly space-crazy and refers to Nevada as Marshmallow and Abraham. Convinced of Nevada's humanity, Preacher relates a story from The Bible about the girl Penelope, who buried dynamite in The Old Mission to destroy Martians should they return, revealing that Our Heroes are standing upon dynamite.
The marshal tries to reason with the Preacher that both he and Croach are harmless and should be let go, but Preacher insists on seeing their hands and feet before setting them free. Nevada freely reveals his toesies, but Croach is resistant as feet are sacred to his tribe. Croach's feet cannot be revealed without stimulation of his egg sacs, and after much compromising, Nevada agrees to help. It is uncomfortable.
Once the feet are exposed, the Preacher snaps a picture and allows them to go free. Our heroes agree to never speak about the events of The Old Mission, and continue on to Doctor Scientist's lab only to find it empty.
Notes
Sparks and Croach mention they are going to Doctor Scientist's lab.  We later learn that Doctor Scientist is another Science Being.
The Hawk People of Rigel 9 are mentioned in this episode, so far this is the only time this species has been mentioned.
At the very end of the episode Croach says "I can't even look at you", one of the few times Croach uses a contraction.
Unofficial Transcript by SparksSpeaks
Continuity
Production
This episode was recorded on June 5, 2010 at Largo at the Coronet in Los Angeles, California. It was released on February 13, 2011.
TAH Live Episode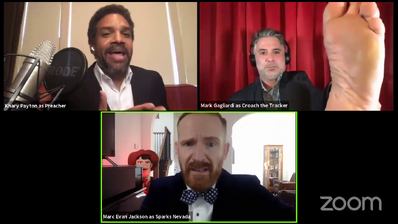 Video
The video of TAH Live #5 may be purchased on Vimeo. Proceeds from the live stream and from sales of this recording benefit the NAACP LDF and Color of Change.
Cast
WorkJuice Players
Guest Stars
Changes
Hal Lublin assumed narration duties, as on most episodes of Sparks, whereas Craig Cackowski was filling in during the podcasted episode.
Folksy Hal reminds us how Sparks and Croach came together in the prequel comic books. (Specifically, Flood at First Sight, though it is also heard in the Treasury episode "Icebreak".) Professor Genius does not make an appearance in the recap.
Croach mentions that the shortcut they're taking goes through the Old Mission, which he would prefer to avoid because it's dangerous, but no other reason.
Preacher thinks he's defending the Old Mission from space invaders, not specifically against Martians. Croach points out that in this case, humans are actually the space invaders.
The story of Penelope and the Ant was expanded, in that Penelope built a tower to spread the gospel too close to radioactive decay, and when her mind had decayed, she buried explosives underground. Also, there was an ant. Preacher is clearly Penelope in the story. Sparks offers to send help for Preacher when they're out.
Croach insists the eggsac ritual is not intimate, but it does require two hands.
Mark Gagliardi actually did show one of his bare feet on camera, as seen in the screenshot above.
Croach says that he and Sparks are now in a state of equal onus, something that has never happened before and there is no word for it in his language. Croach thanks Sparks for forging that bond, and keeping them from exploding.
Sparks promises to return to Preacher to help him.
In the end, Croach believes that he and Sparks are the most capable beings to accomplish the task in front of them. Sparks says that the word in his language to explain their equal onus state is "friendship."
Notes
Production
This episode was performed on June 27, 2020.
References