Jurassic World: Dominion Dominates Fandom Wikis - The Loop
Play Sound
That Sinking Feeling is an episode of Beyond Belief.
Audio
Video
The full episode video may be purchased at Vimeo. Proceeds from the live stream and from sales of this recording benefit food banks in Los Angeles, New York, Seattle, and other cities.
Cast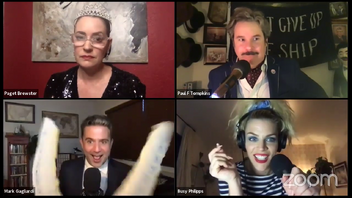 WorkJuice Players
Plot
Frank and Sadie wake up, feeling very rough, and slowly realize that they're on a ship. They wonder if being on a boat is the same feeling as having a hangover. They see a woman whose hands and face are covered with barnacles, and she introduces herself as Maritime Meg. As she cannot direct them to the bar, they then ask the captain, who says Frank and Sadie have been passed out for three days. He also tells them that his compass isn't working, as eerie things have been happening. He says they're heading for Barbados, and Frank and Sadie tell him they're in the middle of the Bermuda Triangle.
Frank and Sadie continue to not find the bar, and come across another being in a captain's hat, but instead of a human, it's a tentacle, also wearing the captain's mustache. Suspicious, but still thirsty, Frank and Sadie head to the bar. The bartender also appears to be the tentacle, now in a bartender's outfit.
Maritme Meg arrives at the bar and has a drink with Frank and Sadie, toasting to Davy Jones. The bar-tentatcle returns and offers them a mimosa, which offends Frank and Sadie. The piano player also turns into a tentacle, as Frank and Sadie notice all the tentacle people extend away, and decide they must all be from the same kraken. As krakens drag ships into the depths, Frank and Sadie wonder why this hasn't happened to this ship yet.
Frank and Sadie realize that the kraken must be play-acting his desire to be in the hospitality industry, and decide to play along in order to keep the ship from being submerged. Maritime Meg tells Frank and Sadie she's a sea witch, and there's probably some ghost ships nearby they can get onto, but they will need to give them a flesh sacrifice like a finger to secure passage.
The tentacle returns as an activities director, disappointed Frank and Sadie don't want to play any of his ship games. They attempt to placate the kraken by complementing his acting, though Maritime Meg is anxious to get the ship pulled down to the depths. She reveals that she summoned the kraken in order to empower her sea witchcraft. Frank and Sadie tell the kraken they think he has a future in acting, and convinces him to eat the sea witch, and then return them to New York so he can audition on Broadway.
Quotes
Mimosas are for CHILDREN!
Notes
Continuity
Production
This episode was recorded via Zoom and broadcast on YouTube on March 22nd 2020. It was released for purchase on Vimeo on March 25th, 2020. The audio was released on the podcast feed on September 10, 2020.
References