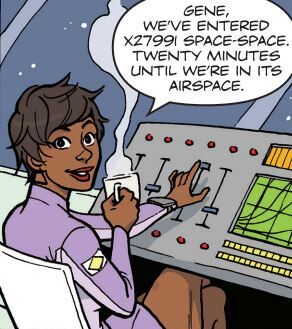 Linda Bailey-Peeples is a character in Tales of the United Solar System Alliance, a part of the Sparks Nevada, Marshal on Mars universe. She is played by Shannon Woodward.
History
Linda Bailey-Peeples is the Executive Officer of the USSA starcraft Orsino. Shis is also the wife of Gene Peeples and the stepmother of Erica Peeples.
Linda argues with her husband to be nicer to his daughter and her boyfriend, Erica and Ensign BambrillEnsign Bambrill respectively. She worries that Erica always sees her as the bad guy, as she's Erica's stepmother, though Linda is in Erica's life much more than Erica's mother.
In T-Minus, Linda informs Gene that Mars is under attack. When the Orsino is badly damaged by the radiation over Mars, Linda argues with her husband that they should follow USSA protocol and abandon the Orsino, sending the Techs and Specs robot to help Sparks Nevada.
For a moment, Linda is jealous that her husband got his ex-wife, Gretchen, a job doing the voiceover for the starship's emergency protocol, but comes to terms with it in time to escape the Orsino.
In MurderMen, Linda is with Erica in an escape pod, but leaves the pod to run to the armory for more weapons. She is bitten by a MurderMan along the way, but returns to the escape pod as her transformation is finishing. She manages to bite Erica, thus causing her stepdaughter to become MurderManned, shortly before being shot and killed by Erica.
Appearances