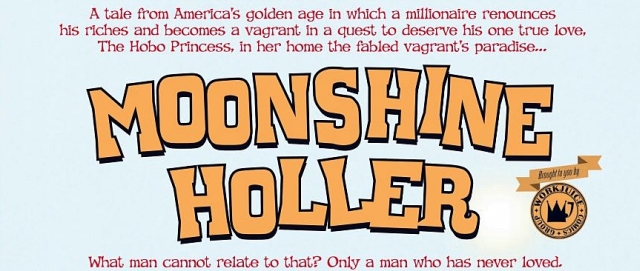 A hobo fairytale. During the Great Depression, a millionaire's son fell in love with a woman he thought was his societal equal. In truth, she was the Hobo Princess. She fled, leaving behind only a fingerless glove. Now, under the assumed identity of Banjo Bindlestuff , the millionaire's son ride the rails with his hobo-mentor Gummy, in search of his one true love who he believes will be found in the mythical hobo paradise: Moonshine Holler.
Segment Regulars
Edit
Other Characters
Edit
Other Pages
Edit
Episode Guide
Edit
Theme Song Lyrics
Edit
Note that some lyrics differ slightly with special guests singing the theme song.  These lyrics are from the official recording with Craig Cackowski singing as Jasper Mannerlodge / Banjo Bindlestuff.
Gather 'round all ye hobos and hear my tale
Of riches to rags, towncars to rails
Fell for a woman, didn't know what to call her
She was the princess of Moonshine Holler
(The beautiful princess of Moonshine Holler)
Packed my life in a bindle, cast my fate to the wind
The New Haven Central was my only friend
Changed my name, now it ain't worth a dollar
My cup overfloweth in Moonshine Holler
(A heaven on Earth called Moonshine Holler)
With a gullet dry and an empty tummy
With Lightning, and Hogjaw, and Skeets, and Gummy
The tales we tell just keep getting taller 
Paving the way up to Moonshine Holler
(Follow them Gents up to Moonshine Holler)
My hobo princess there awaits
Where the brakeman flags the lonesome freights
WIth a trail of rails I was born to follower
I'll be her  prince in Moonshine Holler
(She'll make you a man up in Moonshine Holler)
I'll meet you brother in Moonshine Holler
Unofficial chords for this song can be found here
Community content is available under
CC-BY-SA
unless otherwise noted.