The Dead Authors Podcast is a monthly podcast recorded at UCB and hosted by WorkJuice Player Paul F. Tompkins. Paul plays H.G. Wells, who brings dead authors forward in his time machine to discuss their lives and work. Guests have included Marc Evan Jackson, John Hodgman, Superego, Andy Daly, Chris Tallman, Jamie Denbo, and Scott Aukerman.
The Dead Authors Podcast raises awareness and money for 826LA.
TAH & The Dead Authors Podcast Presents
As a special episode between The Full Christmas Episode from December 2011 and Sweet and Show Down, the Thrilling Adventure Hour and Dead Authors Podcast co-presented Chapter 19 - Authors of The Gospels. The episode featured Craig Cackowski, Mark Gagliardi, Hal Lublin, and Matt Gourley as Saints Matthew, Mark, Luke, and John.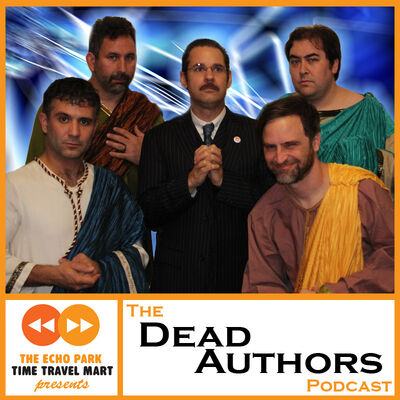 Links