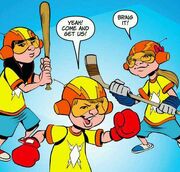 No malice can evade their sight, no crime escapes their ears--They hear, they see, they report to me: Captain Laserbeam's Adventurekateers!
Role
The Adventurekateers assist Captain Laserbeam from the Adventurekateer Clubhouse, monitoring police scanners, sending the Adventurekateer Distress Signal and being with Captain Laserbeam in spirit (which is stronger than 100 lasers) as he fights crime.
List of Adventurkateers
| Name | Actor | Description | Appeared/Mentioned |
| --- | --- | --- | --- |
| Andrea | Busy Philipps | A Hindu Adventurekateer who does yoga. She's dating the DJ from her Samskara, haven't you heard? | |
| Bethany | Jenny Wade | She likes the bad boys. And she's nearly sixteen, y'know. | |
| Brian | Mark Gagliardi | He doesn't need a partner to bring the bling to the Swing of the Spring Fling. See what he did there? Black Tarzan is one of his favorite heroes. | |
| Chris | Marc Evan Jackson | He's in Calculus! But he's getting a B...He's also allergic to ink. | |
| Dana | Annie Savage | She's in Pre-Calc and is the most promising new member of the Apex City High School Math League Applied Mathing Team! Almost as good as Judy Wallaker. (Mr. Marvelous, The Top Notch Man is her dad--Shh!) | |
| Darren | Samm Levine | Libby's older brother. | |
| Emily | Annie Savage | She's good at math and she doesn't understand your weird English accent, dummy. | |
| Gregory | Bruce McCulloch | His parents were recently divorced, but he's cool with it. He gets two Christmases now. And he has something important to say to Andrea... | |
| Keith | Steve Agee | His aunt Florence Montenegro lives with him and may have a secret. But...um, probably not. Forget I mentioned it. | |
| Libby | Annie Savage | Darren's younger sister. | |
| Lynn | Autumn Reeser | She idolizes her history teacher Mr. Blum and has adopted his left-wing political views. | |
| Nancy | Annie Savage | She knows that women might synchronize their vists from aunts. | |
| Omar | Kumail Nanjiani | He's really good at board games. Maybe too good, thank you for asking. | |
| Patrick | Craig Cackowski | Fatter. | |
| Richard | Matt Braunger | William's brother. He got a butterfly knife at the carnival! | |
| Sasha | Linda Cardellini | A crippingly shy Adventurekateer. (Also she's secretly Atta Girl.) What was that? Eh, probably nothing. | |
| Todd | Martin Starr | He's been picking up a lot about psychology since he started living with his uncle. He can make ten baskets in a row and is really growing into his body! | |
| Wendy | Jenny Wade | A somewhat dim Adventurekateer who doesn't quite get her own jokes. What was she thinking of again? | |
| William | Hal Lublin | Richard's brother. He knows his limitations, but he tests well, and is a better typer than Richard. Also, a freestyle rapper. | |
List of former Adventurekateers
Arthur Taylor (Zachary Levi) - The first Adventurekateer. A somewhat brilliant inventor whose disillusionment as a hero's helper (and the loss of one of his toes to frostbite) eventually led him to a life of crime.
Tyler Foxworthy (John Ennis) - The second Adventurekateer. He once performed the same menial duties as Patrick, but eventually left the Adventurekateers and became one of the best henchpeople in the city.[1]
Arturo - A blind Adventurekateer. RIP.[2]
Elsworth (Keegan-Michael Key) - Another early Adventurekateer, serving at the same time as Tyler. He went on to step into the role of Captain Laserbeam while Joshua Valor was unavailable.[3]
Adventurekateer Rules
Rule #6 - "Always cite your sources."[4]
It's against the code for Adventurekateers to date,[5] but that's not stopping the complicated web of crushes between the kids.
Meta
Fans of The Thrilling Adventure Hour are referred to as Adventurekateers.
References